Blog Archives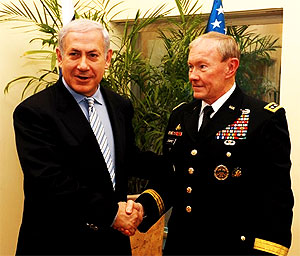 Israeli Prime Minister Binyamin Netanyahu advised visiting Chairman of the US Joint Chiefs of Staff, Gen. Martin Dempsey Friday, Jan.20 that the time for action against Iran was now, for two reasons: First, the conviction that Iran has passed the point of no return for developing a nuclear weapon; and second, the diminishing prospects for a US-led embargo on Iranian oil to catch on before it is too late.
The Obama administration disputes the Israeli prime minister on both points, insisting there is still time for tough sanctions to incapacitate the Iranian economy and stop Tehran before it reaches the point of no return in its drive for a nuke. Israel insists that this pivotal point was reached four years ago in 2008.
Gen. Dempsey was exhaustively briefed on the Israeli position during his whirlwind interviews Friday with President Shimon Peres, Defense Minister Ehud Barak and three conversations with Chief of Staff Lt. Gen. Benny Gantz, one with key General Staff officers.
It was not by chance that Maj. Gen. (ret.) Asher Yadlin, until last year Israel chief of military intelligence, maintained in a detailed article in the Tel Aviv daily Maariv: "If Iranian leaders were to convene tonight and decide to go ahead with the secret production of a nuclear bomb, they already possess the resources and components for doing so. This [capability] was once defined as the point of no return. [As matters stand] now, Iran's nuclear timeline no longer hinges on the calendar; it rests entirely on a decision in Tehran."
The former intelligence chief was saying that for four years, the US and Israeli governments colluded in propagating the false assumption that Iran had not reached a nuclear weapon capability. Presenting a highly problematic oil embargo in 2012 as capable of putting Iran off its nuclear stride is equally illusory.
Yadlin's disclosure provided backing for Netanyahu who Thursday, Jan. 19, at the end of a visit to Holland, asserted for the first time: "Iran has decided to become a nuclear state" and called for "action now to stop Iran before it's too late."
Some of Israel's cabinet ministers tried to soften the impact of the prime minister's words by suggesting that his bluntness aimed at pushing President Barack Obama into implementing the sanctions he signed into law on Dec. 30 targeting Iran's central bank and oil sales, and giving him an extra lever for bringing the European Union and Asian powers aboard.
But Netanyahu soon put them right. According to debkafile's Jerusalem sources, he lined them all up to inform Gen. Dempsey – and through him President Obama – that they did not believe in those sanctions and suspected the Obama administration of orchestrating their buildup as a tool for holding Israel back from a unilateral strike on Iran's nuclear facilities.
Debkafile's oil sources in Asia and Europe report that updated figures confirm how little traction the oil embargo campaign has achieved so far: There is no evidence that China, Japan, South Korea, India, Turkey and the European Union members, which purchase in total 85 percent of Iran's total average export of 2.5 million barrels a day, have cancelled any part of their orders.
While China – which in 2011 bought from Iran 550,000 barrels a day, covering 11 percent of its oil – cut its orders down in January by 285,000, this had nothing to do with ab embargo. Beijing was simply exploiting the threat of an embargo to squeeze from Iran a discount on prices and reduction of its debt for previous purchases. China made it clear to the Security Council that is opposed to "sanctions, pressure and military threats" against Iran. After settling its price dispute with Tehran, China fully intends to return to its former level of trade, even if it decides to partially diversify its oil sources to Saudi Arabia following Chinese Premier Wen Jiabao's Middle East trip this month.
The European Union, which buys some 450,000 barrels per day from Iran, holds a special meeting Monday, Jan. 23, after failing last week to approve a cutback on purchases from Iran. Iran provides Greece, Italy and Spain respectively with about 25 percent, 13 percent and 10 percent of their oil. They are holding out for a very partial embargo and want it delayed until the end of 2012.
Japan, while pledging publicly to keep reducing its purchases of Iranian crude by 100,000 barrels a day, is waiting to see whether China and India join the ban. "The United States should try and talk more with India and China as they are the biggest buyers of Iranian crude," said Japan's foreign minister Koichiro Gemba this week, clearly passing the buck.
South Korea is only willing to forgo 40,000 bpd, but is asking for a waiver.
India's Foreign Secretary Ranjan Mathai said this week that India, which as Iran's second biggest buyer after China relies on Iran for 12 percent of its imports (3,500,000-4,000,000 bpd), will continue to trade with Tehran and not abide by sanctions.
In anticipation of a US-led ban on Iran's central bank, Delhi announced this week that the CBI would open an account with an Indian bank for receiving payment for its oil, partly in Indian rupees instead of US dollars.
Turkey, keen to position itself as broker between the West and Tehran and the venue for future nuclear negotiations, is maintaining its import level of 200,000 bpd of crude from Iran.
Given the snaillike progress of the international oil sanctions campaign against Iran, the Israeli Prime Minister informed Gen. Dempsey Friday that he could not see his way to giving the Obama administration more time for these penalties to work. He stressed that the Islamic Republic's nuclear program had reached the critical point where time was of the essence for preempting a nuclear-armed Iran. source – DEBKA
CHRISTIAN SCIENCE MONITOR
Iranian leader Mahmoud Ahmadinejad's comments coincide with report that IAEA withheld evidence about Iran's nuclear weapon capabilities
In a rare interview with Western media, Iranian President Mahmoud Ahmadinejad said that Iran has no need for nuclear weapons, but he did not rule out the possibility that Iran might develop them in the future. The broadcasting of Mr. Ahmadinejad's remarks coincided with a new report, based on previously undisclosed information, that the United Nations' nuclear watchdog has withheld evidence about how close Iran is to making a nuclear bomb.
In excerpts of an interview aired Thursday night on NBC News, Ahmadinejad said that "the enrichment of uranium for peaceful purposes… will never be closed down here in Iran." When interviewer Ann Curry asked whether Iran would ever develop a nuclear weapon, Ahmadinejad said Iran had no need for such weapons.
"If nuclear weapons were influential, they would have prevented the downfall of the Soviet Union — for that matter, the downfall of the Zionist regime," he said, referring to Israel, long believed to possess 200 nuclear weapons. "Our people have never had a need for nuclear weapons."
"So, may I assume, then, your answer to that question is 'no'?" Curry asked.
Again, Ahmadinejad said: "We don't need such — we don't have a such a need, nuclear weapons. We don't need nuclear weapons. Without such weapons, we are very much able to defend ourselves."
Curry pressed Ahmadinejad again on the question, noting that "people will remark that you did not say no."  He replied, "You can take from this whatever you want, madam." Further excerpts of the interview, which was taped a week previously in Tehran, ran Friday morning. The full interview is to be aired Sunday afternoon.
Ahmadinejad's refusal to rule out Iran building a nuclear weapon comes just a day after President Barack Obama announced plans to scrap the Bush administration's missile shield plan in favor of a new system which would better deal with short- and medium-ranged missiles launched from Iran. President Bush's plan would have placed interceptors in Poland and the Czech Republic to defend against long-range Iranian missiles targeting Europe.
Also on Thursday, the Associated Press released a report that experts at the International Atomic Energy Agency, the UN's nuclear watchdog, believe that Iran is currently capable of building a nuclear weapon. The AP based their report on a confidential document titled "Possible Military Dimension of Iran's Nuclear Program," which was written by senior IAEA officials.
The information in the document that is either new, more detailed or represents a more forthright conclusion than found in published IAEA reports includes:
– The IAEA's assessment that Iran worked on developing a chamber inside a ballistic missile capable of housing a warhead payload "that is quite likely to be nuclear."
– That Iran engaged in "probable testing" of explosives commonly used to detonate a nuclear warhead — a method known as a "full-scale hemispherical explosively driven shock system."
– An assessment that Iran worked on developing a system "for initiating a hemispherical high explosive charge" of the kind used to help spark a nuclear blast.
In another key finding, an excerpt notes: "The agency … assesses that Iran has sufficient information to be able to design and produce a workable implosion nuclear device (an atomic bomb) based on HEU (highly enriched uranium) as the fission fuel."
These details add significantly to previous reports on Iran's nuclear capability, as summarized this summer in a Monitor briefing, 'How close is Iran to a bomb?'
The AP writes that two international officials confirmed the authenticity of the document, though they insisted on anonymity because the document was meant only to be seen by top IAEA officials.
The IAEA denied that it was hiding evidence of an Iranian nuclear weapons program, calling such an idea "politically motivated and baseless," Reuters reports. In a statement commenting on the AP story, the IAEA said that it "has no concrete proof that there is or has been a nuclear weapons programme in Iran."
Reuters also writes that Israel, which has typically been highly vocal about the threat of a nuclear Iran, may be changing its message. Ehud Barak, Israel's minister of defense, said that even if Iran had nuclear weapons, it would not be able to defeat Israel.
"Right now, Iran does not have a bomb. Even if it did, this would not make it a threat to Israel's existence. Israel can lay waste to Iran," Barak said in a transcript of a newspaper interview obtained by Reuters before publication Friday.
Israeli leaders have repeatedly sounded alarms over Iran's atomic ambitions, pointing at President Mahmoud Ahmadinejad's calls for the Jewish state to be "wiped off the map" and support for Islamist guerrilla groups arrayed along Israel's borders.
Prime Minister Benjamin Netanyahu, a right-winger who brought the centre-left Barak into his coalition government, said he saw "eye to eye" with the Defence minister – signalling a possible change in Israel's official rhetoric as world powers prepare to revive diplomatic engagement with Iran next month.
Reuters adds that Mr. Netanyahu issued a supportive response to Mr. Barak's comments, saying "I think that what the Defence minister wanted to say, something that I believe, is that the State of Israel will be able to defend itself in any situation."
Washington Post
Advanced System Could Alter Strategic Decisions in Region
By Howard Schneider
ASHKELON, Israel — As it pushes for international action against Iran's nuclear program, Israel is steadily assembling one of the world's most advanced missile defense systems, a multi-layered collection of weapons meant to guard against a variety of threats, including the shorter-range Grads used to strike Israeli towns like this one and intercontinental rockets.
The effort, partly financed by the United States and incorporating advanced American radar and other technology, has been progressing quietly for two decades. But Israeli defense and other analysts say it has now reached a level of maturity that could begin changing the nature of strategic decisions in the region. Centered on the Arrow 2 antimissile system, which has been deployed, the project is being extended to include a longer-range Arrow 3, the David's Sling interceptor designed to hit lower- and slower-flying cruise missiles, and the Iron Dome system intended to destroy Grads, Katyushas, Qassams and other shorter-range projectiles fired from the Gaza Strip and southern Lebanon.
With the Arrow system in operation and the Iron Dome due for deployment next year, Israel "has something to stabilize the situation: the knowledge that an attack will fail," said Uzi Rubin, a private defense consultant who ran Israel's missile shield program in the 1990s. Iran, he said, now cannot be assured of a successful first strike against Israel, while groups such as Hamas in Gaza and Hezbollah in Lebanon may find one of their favored tactics undermined.
Advances in Iran's rocket technology, coupled with its nuclear program, are chief concerns of the United States and Europe, as well as of Israel and other Middle Eastern countries. Alongside diplomatic efforts to persuade Iran to curb its nuclear research, missile defense programs have been designed with that country in mind.
The Obama administration decided this week to scrap a Bush-era plan to deploy a longer-range-missile defense system in the Czech Republic and Poland, and said it would move toward a more intermediate system that better matches its assessment of Iran's capabilities.
In Israel, the issue is considered a top foreign policy priority. There have been varying Israeli assessments about Iran's progress toward a nuclear weapon: The head of the Mossad intelligence agency told a parliament committee over the summer that Iran may be five years away from acquiring an atom bomb, but the head of military intelligence has said it could happen by the end of this year.
Prime Minister Binyamin Netanyahu, meanwhile, sees Iran's program as an imminent danger. It "is something that threatens Israel and threatens the region and threatens the peace of the world," he said during a recent visit to Germany. "There is not much time."
A recent unannounced trip by Netanyahu to Russia was thought by some Israeli analysts to be linked to the broad set of issues regarding Iran, including Russia's possible sale of advanced antiaircraft missiles to Tehran and the likelihood that Israel will strike Iran's nuclear facilities if the United States and Europe cannot find another solution.
But the steady growth of Israel's missile defenses sheds a different light on the country's military doctrine and sense of vulnerability.
Defense Minister Ehud Barak said this week that he did not consider Iran's nuclear program an "existential issue" because "Israel is strong." Part of that strength lies in its nuclear capabilities — never acknowledged but widely presumed to exist — and part in the assumption that the United States would stand behind Israel if it came under attack. But it also rests in the calculation that enough of the country's air bases and other military facilities would survive a first strike to retaliate effectively.
The sort of deterrence — guaranteed retaliation — that the United States and then-Soviet Union once achieved by deploying nuclear warheads in submarines and keeping bombers aloft is what Israel is striving for through its antimissile systems.
Iran "is radical, but radical does not mean irrational," Rubin, the defense consultant, said. "They want to change the world, not commit suicide."
Israel's program had its origins in the 1980s and grew out of concern about Syria's suspected acquisition of chemical weapons. It took on added urgency in the 1991 Persian Gulf War, when nearly 40 Iraqi Scud missiles hit the Tel Aviv area.